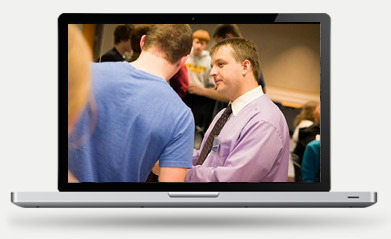 End of semester student evaluations: Fall 2013 GVSU

His enthusiasm for the subject makes learning the material much more interesting.

My instructor is the best computer science teacher ever, and one of my favorite teachers I've ever had. His teaching skills are incredible and I actually learned a lot in his class.

Our professor would connect what we were talking about to real world examples. This allowed the material to stick with me. Additionally, he would call on class members to participate in various activiti es during class.


He uses a fair amount of hands on learning, a lot of real world applications and experiences and always giving opportunities to due better.

He used promts and games to keep the class engaged in the subject

Szymon was my favorite professor of the semester. He woud always get back to me sooner than expected and went out of his way for me. He was very flexible and also showed clear interest in my grade and would help in more ways than I deserved.

He was able to project himself in a very good manner.


The instructor brought in effective learning devices besides those already provided in the classroom.

Quick to respond to emails. Made instructional videos for online projects. Extremely approachable!

He loves his students! I liked that I felt comfortable asking me questions. He knew my name and was one on one with me. He was an awesome professor as well as a person!

He really taught me a lot about computers that I had no clue about. He made the class fun and exciting. :)


This professor really cared about how his students were doing and made the extra effort to check in with students to make sure if they needed help he was there to help them

He is very good at teaching this subject and it shows that he know it very well. He uses visual objects and videos to promote our learning to see what it is instead of listening, i thought that was great! it really helped me learning! the youtube videos that guide through the tutorials are very effective! it saves time and it clears misunderstandings up properly and efficiently.

He was an awesome professor and very willing to meet with students who needed more time and help. Very responsive to email and questions presented in class. Was genuinly interested in the students' learning and did whatever he could and everything he could in order to help students. Also adjusted the pace of the course according to the time that students needed for certain material. Great professor!

This instructor has been so very patient. I really appreciate how on the first day of class all we talked about were techniques for when things are not going our ways on the computer.
Professor used a variety of aids to help students with their excel and access projects. Video aids were extremely helpful. Whenever I emailed him a question he got back to me within 30 minutes each time.

great personality! Nicest professor I have ever had! Very understanding when students have technical difficulties. Very fast feedback - IMPORTANT!! Great Job Szymon!

He is very positive and finds ways to teach us new information in a way that we understand as well as in a way that we can successfully recall the information taught. He made learning fun and exciting, which I feel more college professors should do. Fun and learning should go hand and hand for adults too, not just kids.

used many interesting ways of teaching.

He gets the class engaged, he uses good examples, very fair to students, he is always interested in making the class time more effective, and he is a very nice guy.